Welcome to the first SambApp-related blog entry! Read on to follow the development of our "samba metronome" for the iPhone. Be sure to check back periodically for updates. We welcome your questions and comments. What do you think of a samba metronome? Would that be useful to you? What features should it have to be useful and fun?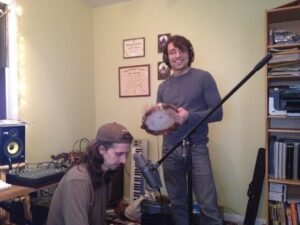 You may be asking, why a samba metronome? There are no two ways about it: Practicing music with a metronome is essential. But is also soooo frustrating! As a Brazilian music-focused musician, I had dreamt of a more pleasurable and organic way of practicing standard Brazilian genres. I found myself pondering, "What if I had a portable percussionist in my pocket to accompany me during those moments when I need a steady groove for practice or performance? Isn't there 'An App for That'?" It turns out there was not.

SambApp programmer Kate hard at work
I have a smartphone but am not smart enough to translate the concept into the phone. Luckily it turns out that fellow Samba Jig Productions co-founder Kate is a badass coder! We brainstormed what a "samba metronome" would look like and how it would function. SambApp was born. After creating a storyboard and then a working demo version with a Zoom H4N Handy Portable Digital Recorder, we realized the need for professional recording quality. We recruited our good friend Steve, who is a fantastic musician and sound engineer, to faithfully and tirelessly record the many instruments and create loops of the various rhythm clips. You should see the list of tracks we have!
Sound engineer Steve and I working on pandeiro and berimbau recordings
We are nearly done with the recordings and moving on to cleaning the loops and equalizing. We are very happy with the results. But we want you to know that although it may look simple, it's not! Every step of the recording, programming and design process took more time and effort than we expected. So, we are sharing with you a sample of the work and love that goes into our creation.
The ups and downs of SambApp coding
By Pablo Regis de Oliveira
Co-founder, Samba Jig Productions