EducArte Annual Report 2020
Letter from the founders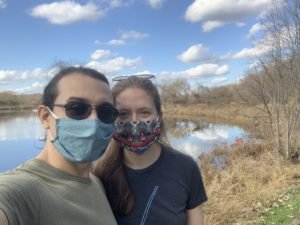 It is with great pride that we report on our first year of arts education programming. We have dreamed of starting an arts non-profit organization for more than six years. After years of programming, producing, and promoting music and dance events and workshops in the Maryland/DMV area, we finally entered the nonprofit world with EducArte.
While it has been a challenging year, we made use of our time to build up a strong organizational foundation, which included bylaws, a business plan, legal frameworks, and a fantastic foundational Board of Directors. We founded EducArte in order to open spaces for artists and their communities to create art on their own terms, and this year has not changed that mission. We have been obliged to fully embrace the virtual space, but we are just as committed to building and fostering our virtual community, while also planning for our safe return to in-person programming.
We were approved for 501(c)3 status just as the pandemic lockdowns occurred in March. The public health crisis gave us time and space to do some deliberate planning and lay the groundwork for a strong organization. We spent many hours in consultation with our board members and their networks to plan out our business structure, our fundraising efforts, and our marketing. We were happy to bring on two new board directors: Marietta Ulacia brings her expertise in non-profit arts administration and George Michie brings his expertise in marketing and technology.
This summer, we launched our first virtual series, comprising seven programs with 16 artists, scholars, and arts educators across the United States and in Brazil. This series successfully brought our Maryland/DMV community together online, and also invited new audiences from inside and outside of our region. The programs give us visibility online and have provided a proof of concept for the kind of community-building we want to do. We are building out our second virtual series for spring 2021 and we have also booked educational workshops with institutions such as Arlington Montessori and the University of Maryland's Global Communities Living-Learning Program.
We continue to build partnerships with other artists and organizations in our field. We are ramping up our fundraising efforts now that we have a solid foundation. We thank all of our supporters—our board directors, our colleagues, and our fellow artists and administrators—for giving so much time and energy to this initiative. We are always learning, and we thank you for going on this journey with us.
– Kate Spanos and Pablo Regis de Oliveira
Quick facts and numbers
Business development
EducArte attained 501(c)3 status as a non-profit organization in Maryland in January 2020.
In summer 2020, EducArte underwent intensive consultations related to business planning, strategizing, and fundraising for a small start-up non-profit throughout the year.
Board of Directors
EducArte appointed two new members to its Board of Directors: George Michie and Marietta Ulacia.

Fundraising
EducArte raised over $5400 in individual contributions, $5000 in institutional grants, and $2000 in governmental grants.
Marketing & communications
EducArte launched its website and social media channels (@educarteinc) in February 2020.
Programming
EducArte launched its virtual performance and conversation series in July 2020, in the midst of the COVID-19 pandemic using the StreamYard platform. The series included seven livestream broadcasts to Facebook Live and YouTube Live with 16 local and international guest artists.
Guests shared their work through live and pre-recorded performance and shared their experiences as artists during the COVID-19 pandemic. The discussions were moderated by Pablo Regis de Oliveira and guest moderator Bryan McCann, Ph.D., from Georgetown University.
Guests included: Geovane Santos, Richard Miller, Rob Curto, Cissa Paz, Rose Moraes, Elin, Paddy League, Kate Spanos, Trio Júlio, Ceylon Mitchell, Amy K Bormet, Kenia, and Alison Crockett.
The series reached an average of about 2000 people per show with a total of about 3000 engagements (clicks, comments, reactions, and shares) for the entire series.
EducArte launched its virtual workshop series in September 2020, with two workshops on African rhythms in Brazilian music by Richard Miller, Ph.D. and a workshop on samba percussion led by André Coelho.
EducArte partnered with Fulbridge and the Fulbrighter Network to organize a series of four ethnographic research workshops from March to September 2020. The workshops were organized and led by Kate Spanos.
We partnered with Fulbright in the Classroom (organized by Ann Kennedy) to present arts education workshops at local schools in Maryland, Virginia, and DC. The first workshop in November 2020 was a capoeira workshop offered via Microsoft Teams to upper elementary students at Arlington Montessori. As one student wrote, "I learned new instruments and I got to learn the names of those instruments and I learned a new song." Another student wrote, "I learned that in Brazil they have a different lifestyle like the music and dance than we have."
We also set up a partnership with the University of Maryland's Global Communities Living-Learning Program to offer virtual workshops in February and March 2021 in Brazilian choro (taught by mandolin master Mike Marshall) and Irish dance (taught by Kate Spanos).
Multimedia