Virtual Series: Nic Gareiss, Becky Hill, and Kate Spanos
March 19, 2021 @ 8:00 pm
-
9:30 pm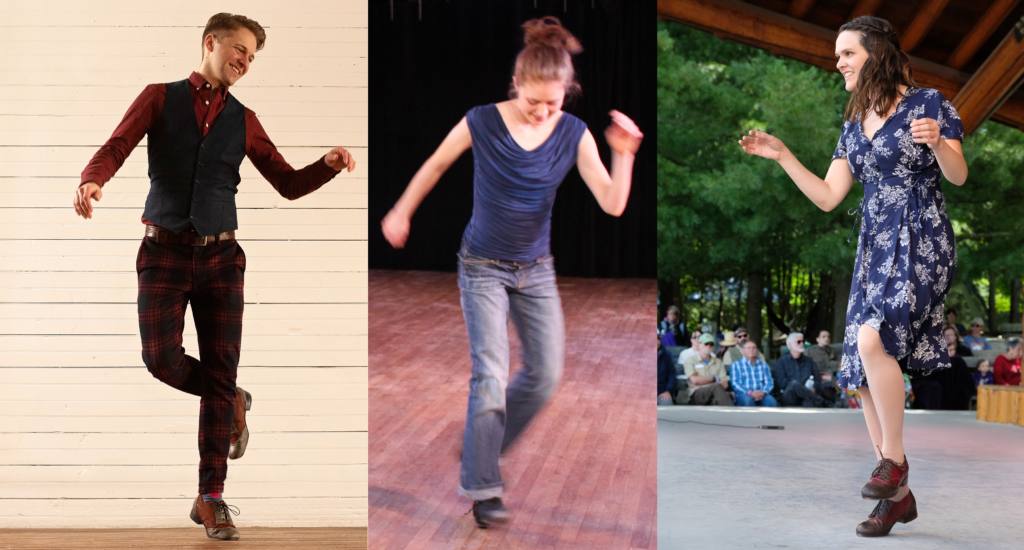 Join us for an open conversation with percussive dancers Nic Gareiss, Becky Hill, and Kate Spanos about tradition, innovation, and musicality. They will discuss concepts such as "dancing the tune" (Gareiss), rhythmic translation, and the similarities and differences between various percussive dance forms.
Nic Gareiss is a dancer, musician, and dance researcher. One of Dance Magazine's "25 to Watch," Nic is swiftly becoming recognized as a leading figure in traditional dance. Informed by 25 years of ethnographic study and performance of many world dance practices, Gareiss' work draws from many percussive dance traditions to weave together a technique facilitating his love of improvisation, traditional clog and step dance footwork vocabulary, and musical collaboration. He has performed in sixteen countries with many of the luminaries of traditional music and dance including Alasdair Fraser, Bruce Molsky, The Chieftains, Colin Dunne, Darol Anger, The Gloaming, Ira Bernstein, Liz Carroll, Phil Wiggins, and Sandy Silva. He has performed at London's Barbican Centre, the Irish National Concert Hall, the Munich Philharmonic, and the Kennedy Center. In addition to his two solo shows The Art of Treepling and Solo Square Dance, Nic collaborates in duo projects with Allison de Groot, Caleb Teicher, Cleek Schrey, Maeve Gilchrist, Simon Chrisman, Ultan O'Brien, and as a member of the quartets DuoDuo and This is How we Fly. To learn more about Nic Gareiss, visit www.nicgareiss.com.
Becky Hill is a percussive dancer, square dance caller, choreographer, community organizer, and educator. She grew up in Michigan, spent extensive time in West Virginia and now resides in Brentwood, Maryland. Becky has worked with Footworks Percussive Dance Ensemble, Good Foot Dance Company, and Rhythm in Shoes, and has studied with an array of percussive dance luminaries. As an avid organizer and teacher, Becky's work is deeply rooted in the connections between music and community. She believes there is always more to learn and is dedicated to creating innovative choreography rooted in Appalachian music and dance. To learn more about Becky Hill, visit www.rebeccahill.org.
Kate Spanos is an Irish step dancer with experience in a variety of other percussive dance styles, as well as Brazilian dance and movement traditions. Her embodied research and teaching focuses on how dance creates joy and community, embodies resistance, promotes social change, and walks the line between tradition and innovation. She is particularly interested in the ways that dances archive memory and construct embodied knowledges for communities of people. To learn more about Kate Spanos, visit www.thekatespanos.com.
Join us on Facebook Live or YouTube to tune in!
RSVP on Facebook: https://www.facebook.com/events/435258710856577/