We were recently featured as guest bloggers about our Latino arts programming for the College Park Arts Exchange website! Check it out:
Over 10 years ago, we met training capoeira, an Afro-Brazilian martial art/dance, in Washington, DC. Pablo comes from a Brazilian music background and Kate grew up doing Irish dancing. Connecting over shared interests in cultural performance, we began to produce shows all over the DMV. We are honored to have produced events with esteemed partner institutions like Smithsonian Folklife Center, The Clarice, and Strathmore, and we are now delighted to share our community events in our own neighborhood of Old Town/Calvert Hills at the Old Parish House and St. Andrew's Episcopal Church.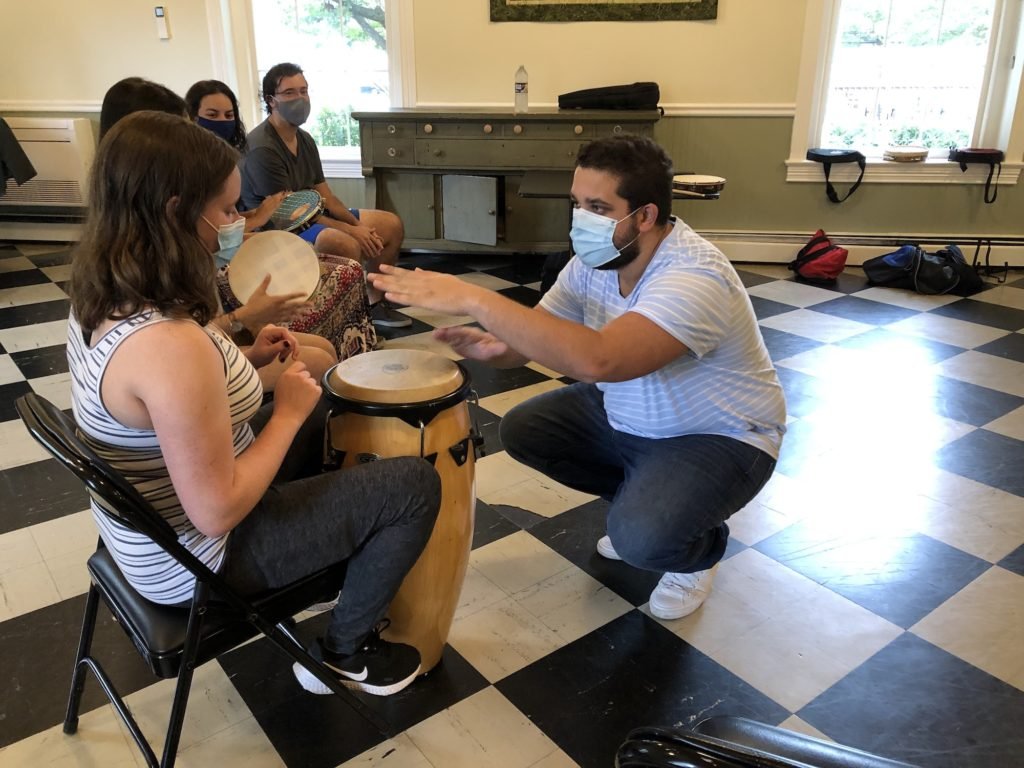 After a few years presenting concerts, we founded the non-profit EducArte (Education + Arte) in College Park with a focus on arts education. This past summer, as we were emerging from the stay-at-home orders, we partnered with the College Park Arts Exchange (CPAE) to produce bi-weekly Afro-Brazilian percussion and dance workshops every other Saturday. The sessions are led by EducArte percussion director André Coelho from Rio de Janeiro and various dance instructors from Brazil and the U.S. It has been encouraging to see so many College Park residents and UMD students come out, some of whom have no experience with Latin music and dance at all. Our intention is to create a safe space where non-professionals feel welcome to participate. We want to build community, connection, and a healthy creative outlet for local residents through the arts. Participants have told us that they, indeed, feel a sense of shared purpose and they enjoy learning about this culture. It is a fulfilling experience to meet our neighbors and bring us together to collaborate creatively.
We founded EducArte with the belief that the arts should be part of everybody's daily lives because creative engagement results in healthier people and society. We approach our projects with a deep commitment to social justice, equity, and inclusion. We manifest this credo through our workshops and lectures/conversations about folk arts and traditions that arise from the intersections of African, indigenous, and European cultures throughout the Americas.
We greatly appreciate working with Melissa Sites at CPAE, who is an exemplary leader in the College Park arts community. We have enjoyed many CPAE events in our neighborhood for years, and it is meaningful to us to also contribute our Latino programming to the vibrant arts scene in College Park.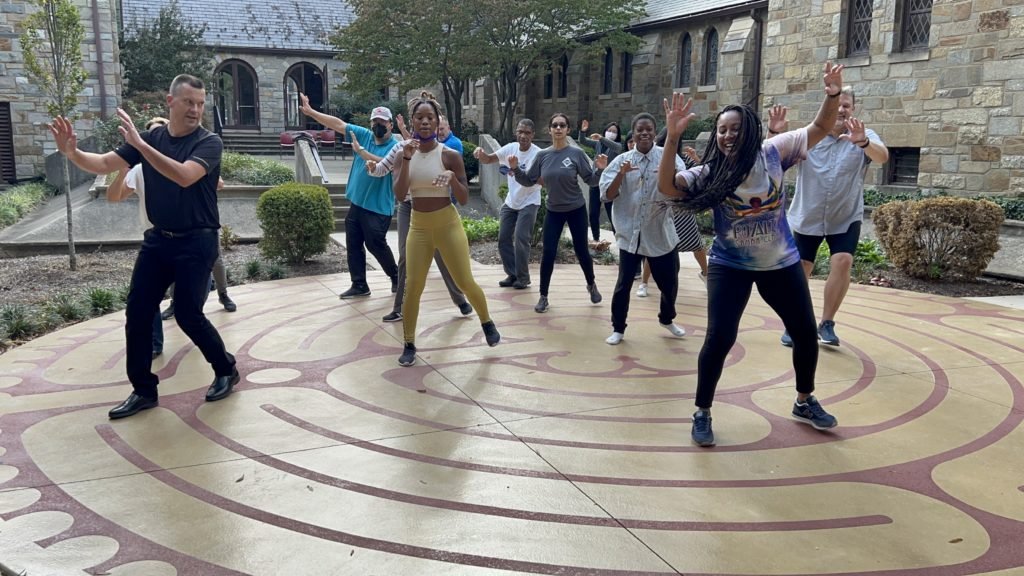 The next dance and percussion workshops are scheduled for Saturdays November 20, December 4, and December 11. All workshops are free to the public. On December 3 at the Old Parish House, we will also present the final lecture in a series about choro, Brazil's first musical genre, by UMD School of Music scholar and flutist Ceylon Mitchell. We are particularly proud to announce that one of our marquee events in 2022 will be Marisa Monte at Strathmore Music Hall in March. Marisa Monte is one of Brazil's most popular singers of all time.
To learn more about EducArte and register for our events, please visit www.educarteinc.org.
About EducArte
Pablo Regis de Oliveira is the executive director of EducArte. A Maryland State Arts Council Individual Artist Award recipient, Pablo sings and plays the cavaco (Brazilian ukelele), guitar, and percussion, performing Brazilian music throughout the DC metro area. As a Brazilian/Peruvian American, he grew up in Los Angeles and Brasília, immersed in Brazilian music and culture. He also works as the programming manager for the Prince George's Arts and Humanities Council. www.pabloregis.com
Kate Spanos is the board president of EducArte. Kate is an Irish dancer from Arlington, VA and a dance scholar who has studied Irish dance in Ireland, frevo dance in northeastern Brazil, and carnival and masquerades on the Caribbean island of Montserrat. She was a postdoctoral Fulbright scholar at the Federal University of Pernambuco in Recife, Brazil, and she has a Ph.D. in dance and performance studies from the University of Maryland (UMD) and an M.A. in traditional Irish dance performance from the University of Limerick. She is also the marketing and communications coordinator for UMD's School of Theatre, Dance, and Performance Studies. www.thekatespanos.com
Original post: http://cpae.org/arts/2021/11/11/educarte-proudly-brings-new-latino-programming-to-college-park/