We are thrilled to share that Pablo's Baile was featured in this week's Washington City Paper! We are grateful to reporter Steve Kiviat for covering the story and giving Pablo, Brazilian music, and EducArte some press.
Here is the story in full: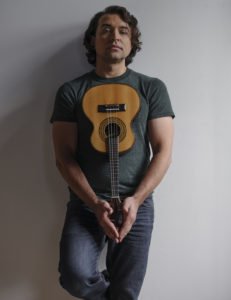 By Steve Kiviat, published in Washington City Paper
Fronted by Pablo Regis, this monthly event at Bossa Bistro unites call-and-response vocal melodies with percussive dance beats.
December weather in D.C. may not be as warm as Brazil, but you can still drink caipirinhas and sing along to tuneful Brazilian samba and forró at Bossa Bistro's Pablo's Baile, on Dec. 16. This every-third-Thursday event at Adams Morgan's cozy restaurant meets nightclub is led by Pablo Regis and his band. The musician plays both the cavaco, a four-stringed cavaquinho that looks like a small guitar, as well as the Brazilian frame drum known as a pandeiro. He describes the cavaco as a "phenomenal Brazilian fusion of percussion and guitar that brings together rhythm and harmony." In addition to leading a band, Regis and his partner, Kate Spanos, founded the Maryland nonprofit EducArte, where they coordinate dance and drumming classes, and introduce Brazilian artists to the area via the organization's Samba-Jig Productions. A D.C. resident since 2005, Regis was born in Los Angeles to Peruvian and Brazilian parents, moved to Brasilia, Brazil, at 11, and lived in Germany as a teenager before going to college at UCLA. As Regis' Bahia-raised father was a musician and the cultural attaché for the Brazilian Consulate in L.A., he grew up hearing musicians playing in his home and attending Brazilian events. Today, Regis plays mainly covers of longtime Brazilian stars such as Djavan, Alcione, Clara Nunes, João Bosco, Martinho da Vila, and Seu Jorge. These artists blend lilting, call-and-response vocal melodies with percussive dance beats. Regis says, lyrically, some of these Brazilian Portuguese language tunes involve funny stories while others convey the Brazilian feeling of saudade—a deep melancholic longing. "Although not everyone in the audience understands the lyrics, I am able to convey the meaning and emotional content of the lyrics through my singing and playing," says Regis. Pablo's Baile starts at 10 p.m. on Dec. 16 at Bossa Bistro, 2463 18th St. NW. Bossa DC. $10.