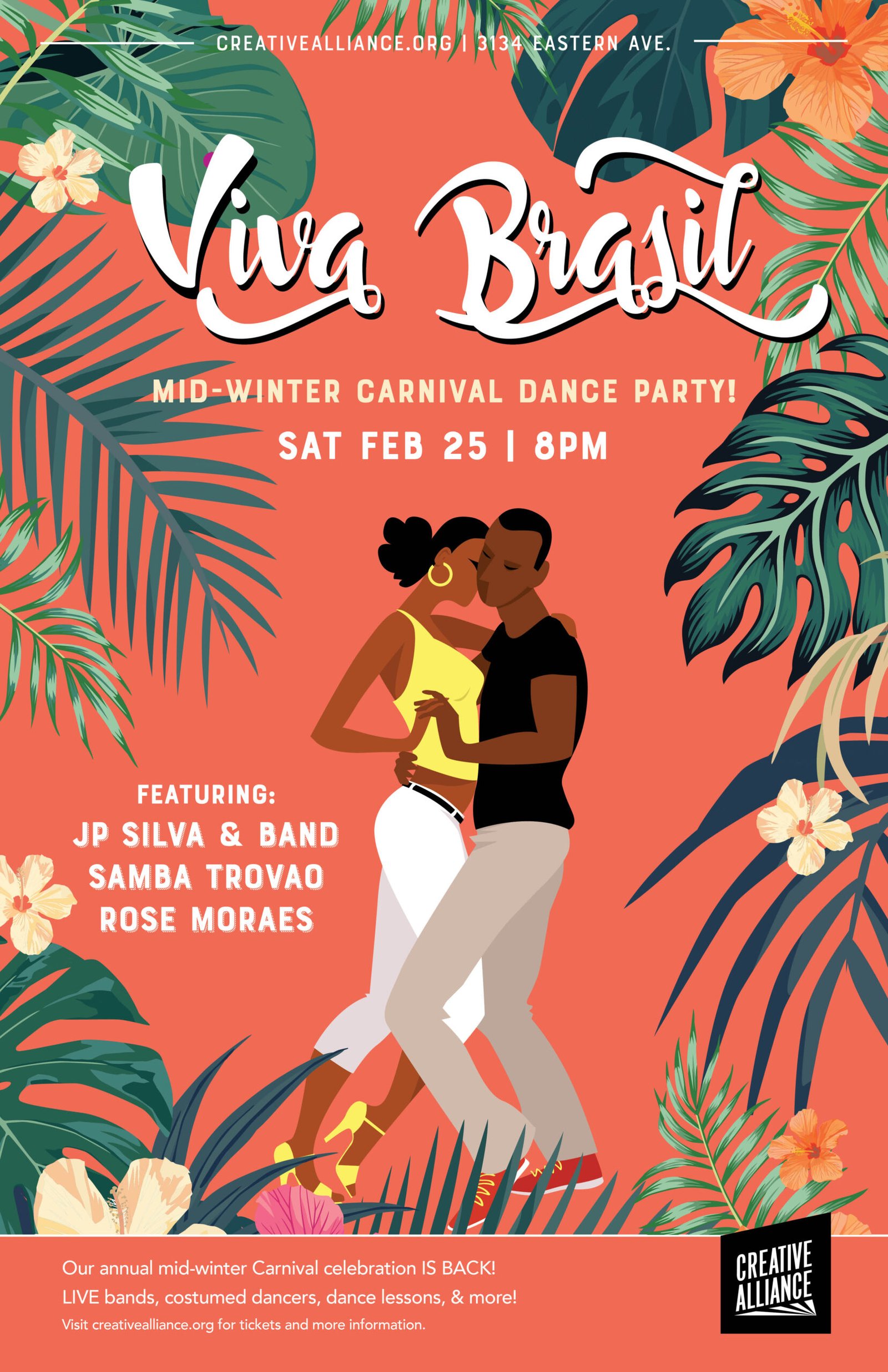 Viva Brasil! Carnival Dance Party at Creative Alliance
February 25 @ 8:00 pm
-
11:00 pm
Creative Alliance's annual mid-winter Carnival celebration is back, featuring concerts, dancers, dance lessons, and more! Carnival dates back to the 1600s and is a celebration of Brazilian life and culture.
The concert starts at 8PM and there will also be Brazilian percussion and dance workshops earlier in the afternoon. André Coelho will teach percussion at 1PM and Ilheuma Zezeh will teach samba dance at 2PM.
Featured Artists:
JP Silva (presented by EducArte)
Samba Trovão
Rose Moraes
JP Silva & Band
Join us for this special performance by JP Silva, coming to us directly from Carnival in Rio de Janeiro. JP will perform classic samba and carnival songs with band members Pablo Regis, André Coelho, Lucas Ashby, Filipe Brandão, and more.

Born in Rio de Janeiro, JP Silva is a singer, composer, and instrumentalist who professionally entered the world of music through choro at the Escola Portátil de Música da Universidade Federal do Estado do Rio de Janeiro (UNIRIO). He has played with renowned musicians Diogo Nogeira, Elza Soares, Toninho Gerais, Barbeirinho, Marquinhos de Oswaldo Cruz, Délcio Carvalho, Maurício Carrilho, Elton Medeiros, Paulão 7 Cordas, Ademilde Fonseca, Velha Guarda Império Serrano, Velha Guarda Mangueira, Velha Guarda Portela, Mario Broder, Neguinho da Beija-Flor, B Negão, Wilson Moreira, Wilson das Neves, Dudu Nobre, Fernanda Abreu, Jorge Aragão, and Luiz Melodia.
JP has played the DC/Baltimore area various times in the past, representing the genres of samba, choro, and MPB. He previously performed at Creative Alliance's Viva Brasil! party in 2019 and 2020.
Related Events