Clave – Orphan Roots of American Culture: A Workshop on African Rhythm in Modern Music with Jean-Francis Varre
April 7, 2021 @ 7:00 pm
-
8:30 pm
This interactive workshop is the first in a music and culture series tentatively titled "Black Atlantic." The focus of the workshop is to shed light on the black African aesthetic of rhythmic structure commonly dubbed "syncopation" by Western musicologists but better explained by the Afro-Cuban concept of the "clave." Participants will see how this African principle was incorporated into and influenced Western concepts of musical meter ranging from Brazil to the US, how it remains at the core of nearly all modern music, and how it can be applied in composition.
Jean-Francis Varre will lead combination of short verbal histories of various "claves" accompanied by live demonstrations of the musical styles on guitar and vocals and in dance. Participants will learn to clap and maintain a specific clave as the music performed over it is varied, by genre and era, in order to deepen the understanding of its application.
Register for the workshop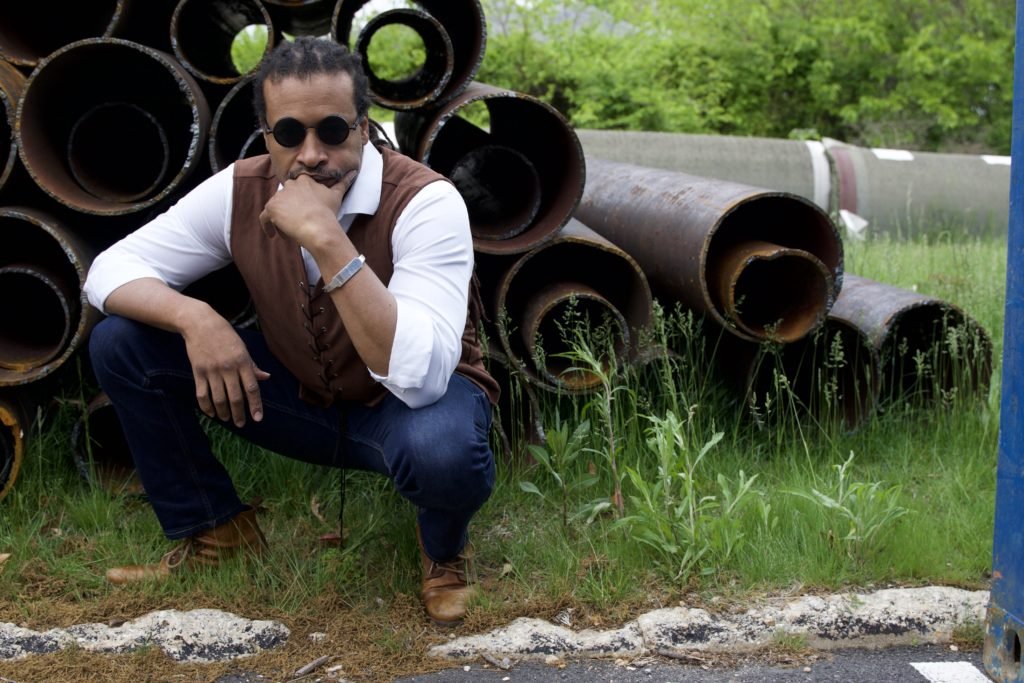 About Jean-Francis Varre
Jean-Francis is a singer multi-instrumentalist who holds BA in Sociology with a focus on postcolonial studies. Jean-Francis Varre was born to Senegalese and Cape Verdean immigrants in Washington, DC. He began singing at 13 years old, at first in English, and later in Spanish and the languages of his heritage: French, Wolof, and Portuguese. A self-taught singer, songwriter, and instrumentalist, Jean-Francis has performed musical genres including American soul & rock, Cuban salsa, and Senegalese mbalax in multiple local and international projects such as DC rock groups Lucy Brown and Sitali, Brazilian samba/axé celebrity Tonho Matéria, British soul icon Omar, Grammy-nominated hip hop fusion artist Christylez Bacon, and Grammy-nominated salsa/timba ensemble Gonzalo Grau y la Clave Secreta.
Jean-Francis currently leads the band Sahel which performs a fusion of his influences. In 2017 and 2018, Sahel shared bills with international artists such as Les Nubians, Habib Koite & Bamada, Bombino, and the Afro-Cuban All Stars. Sahel is presently in the process of recording its first original release.
Between 2016 and 2019, Jean-Francis travelled to Havana, Cuba and Bahia, Brazil to advance his diaspora studies and build a foundation for sustained documentary work and collaborative musical projects. In 2018, Jean-Francis won a DC Commission on the Arts and Humanities Sister Cities grant for an artist exchange between Washington, DC and Dakar, Senegal entitled "Black Gold," which included discussions, collaborations, and performances free to the public in both cities. The project took place in May and June 2019 and was also supported by the Smithsonian and Dance Place. At the 2020 DC Music Summit, Jean-Francis led an interactive workshop shedding light on the black African aesthetic of rhythmic structure entitled "Clave – The Orphan Roots of American Culture." These projects comprise the first chapters of a long term educational bridge building endeavor tentatively titled "Black Atlantic," which traces and recounts the movements of African peoples throughout the diaspora and their influence on modern world culture through the evolution of the music of the 19th and 20th centuries. 
Related Events